Rita Nakashima Brock, Faith Voices for the Common Good and Occupy Oakland, California
Sharon G. Thornton, Andover Newton Theological School and Occupy Boston, Massachusetts
---
Rita Nakashima Brock, along with "co-conspirators" Sharon Thornton and Boyung Lee, planned the 9:00 PM candlelight "99 Percent March for People's Lives" that took place during the November 2011 AAR Annual Meeting in San Francisco.  Over 300 scholars and professors, along with local religious supporters of Occupy Wall Street, gathered in the rain and howling wind at Union Square to walk the mile to Justin Herman Plaza, home of "Occupy SF." Some traveled in wheelchairs. While many marchers carried umbrellas, most gave up after the wind turned them inside out — all of us got wet, but the battery-operated candles stayed lit!
Marchers paused at the Embarcadero Hyatt Hotel for a spirited protest of their labor practices. Several hotel staff greeted us and accepted roses that marchers left behind. When we offered candles to the startled guests waiting for rides outside, three took them and chanted with us.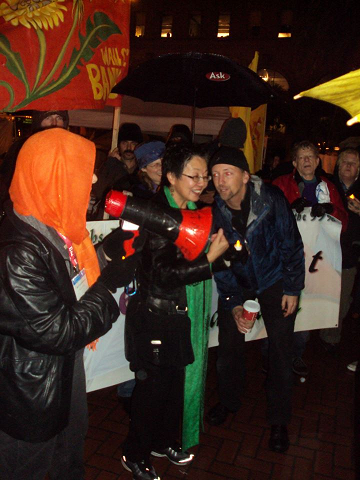 When we arrived at the Plaza, damp and windblown, the residents enthusiastically greeted us. A leader from their interfaith group presented us with a basket of symbols collected from members of Occupy SF. The small stones, bits of glass, a bead, a few shells, coffee packets, chocolates, and small notes of prayer and encouragement were offered with touching stories that the collector had heard as he gathered the gift, which was later placed on the altar at the Interfaith Tent at Oakland.
The program was short. Cornell West, who was scheduled to speak, became too ill to attend. Brock offered words of appreciation to those on the Plaza, and Rabbi David Cooper of Occupy Oakland and Andrea Smith, an AAR member, offered their visions for social transformation to rousing cheers from the crowd. All used the "Mic Check" ritual, which echoed ancient liturgical forms of call-and-response. We asked the crowd to shout out where they were from and discovered we had AAR marchers from occupations all over the country and from many Bay Area cities.
As we closed the gathering with an energizing benediction from Sharon Thornton, Occupy SF members formed a circle and invited us to sing. For an extended time, we sang and listened as those in the circle took turns speaking about their losses and struggles with the current economy, their gratitude for time together, and their hopes for the Occupy movement and a different world. The circle of deep feelings of solidarity and goodwill were palpable as we stood in the wind and rain, and our hosts seemed not to want the evening to end. There was "a sweet, sweet spirit in that place," with lots of hugs as we parted.
The idea for the march was sparked in early October at a rally in front of the Bank of America in downtown Berkeley, California, where a two-hour discussion unfolded about when and where to start an occupation. The crowd that day was made up of all kinds of folks: university students, seminarians, professors, church folks, old Berkeley activists, young families with babies in strollers and kids with backpacks, a couple of homeless vets, and people just strolling in the neighborhood. When the three of us arrived (Brock, Thornton, and Lee), a well-orchestrated conversation was underway using the "Mic Check" human amplification procedure that requires everyone to listen and repeat the speaker's comments. As people wiggled their fingers skyward to signal their assent to a comment or toward the ground to register disagreement, a public space for creative and meaningful dialogue and consensus formation emerged. The young leaders were skillful facilitators, allowing all voices to be heard while adeptly limiting the one or two who sought a bully pulpit to promote their particular cause. While not our first introduction to Occupy Wall Street and the gathering force of people waking up to our shared untenable situation, it was our first General Assembly (GA). The outrage was palpable. The surprise of finding others was exhilarating. The emergence of a community from the General Assembly process was heartening.
As the General Assembly discussion ensued, Lee suggested we do something during the AAR meeting in San Francisco, so after the Berkeley meeting Brock headed across the Bay with a couple of church friends to investigate Occupy SF. First she secured the support of their media committee, and then she consulted with Kwok Pui Lan about the AAR. After securing Kwok's support and contacting a few former Presidents and Program Unit Chairs who were willing to endorse the idea, we reached out to colleagues, friends, and interested acquaintances through phone calls and social media. The response was immediate and enthusiastic; not only from forty individual members, but also from the Asian North American Religion, Culture, and Society Group; the Martin Luther and Global Lutheran Traditions Group; the Practical Theology Group; the Transformative Scholarship and Pedagogy Consultation; and the Women and Religion Section.
Brock's nonprofit organization, Faith Voices for the Common Good, collected donations to cover expenses related to the march. She also contacted local religious leaders, secured a parade permit, and worked with local law enforcement. When asked by the officer in charge if anything was planned where people might get hurt, Brock explained the main safety concerns were senior scholars like herself tripping on the curbs because we were walking at night in bifocals. In the meantime, Thornton and Lee continued to promote the march, make flyers, and attend to other important last-minute details.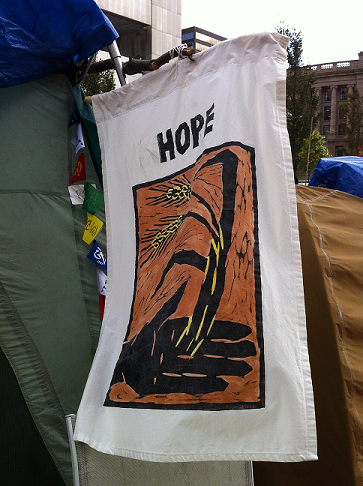 A group of young scholars involved with Occupy Boston were also planning a program event during AAR. They reached out so we could coordinate our activities. We also contacted interfaith groups at Occupy SF and Occupy Oakland, whose work we wanted to support with our action.
Much to our surprise and delight, the Society for Biblical Literature and the AAR Executive Directors wrote a letter in support of the Occupy movement, which they issued the day of our march. And, there is now an AAR group called Occupy AAR.
Our hope moving forward is to offer a religious presence and leadership within the movement. We also plan to promote awareness in religious communities about the significance of this already astonishingly influential, international grassroots uprising that advocates what Charles Eisenstein calls "sacred economics". We created a statement for the 99 Percent March to help our constituencies understand why we marched:
We are scholars of religion who have taught many thousands of students about the values of the world's religions, values which affirm the dignity and worth of all human beings and the need to accept responsibility for a common good that benefits everyone. We are also spiritual practitioners, students, religious and community leaders, and those who have trained such leaders. We are marching tonight to honor these values as part of the 99 Percent Movement, which has inspired over a thousand occupations around the world supported by millions of people hungry for justice and a better world.

In signing this statement, we affirm our commitment to a common good that enables human thriving, care for the environment, and protection of religious freedom, specifically:

We seek a decent life for all that includes access to healthcare, high quality education, affordable housing, adequate income, and meaningful work.
We want to restore democracy so that every person's voice is respected in determining the quality and future of our lives.
We call upon our leaders to reverse financial policies that have distributed income from the 99 percent to the 1 percent for too many years.
We ask for just economic policies that respond to the needs of everyone.
We support the rule of law to prosecute those who harmed so many lives through financial fraud and gross mismanagement.
We call for the reinstatement of appropriate regulations on corporate practices that affect the public.
We embrace immigration policies based on vision and hospitality, not fear.
We must dismantle an outdated, dangerous militarized approach to "national security" based on brute force.

We are marching, in sum, for a beautiful world, in which curiosity and imagination are kindled; vibrant, respectful relationships grow; all creatures flourish; and peace prevails.
Supporters of Occupy Wall Street stand in long and distinguished activist traditions that use speech acts and demonstrations to hold the powerful accountable for the suffering of the people. The Occupy Wall Street movement's symbolic use of tents and creation of real tent towns give visible witness to homelessness, foreclosures, rising poverty, gross injustice, and the continuing financial crisis. They also embody the society the movement wants — where generosity, equality, solidarity, and care are bedrock values and food, healthcare, childcare, education, housing, and art are free to those in need.
Because prophetic acts expose those who deny the hard truths of many injustices and perpetrate them, the backlash of the powerful can be massive and fierce. But even after violent police raids and military-style crack-downs, Occupy Wall Street occupations have persisted in maintaining living witnesses to a better world. Most of the tent towns that sprang up all over the world in 2011 still endure in some form, and the communities that created them still gather for mass actions.
One successful action was the December 12 West Coast port shutdown, "Wall Street on the Waterfront." Initiated in Oakland in response to the raids of tent cities, it got support from the West Coast occupations, plus Houston, Texas. Both New York and Tokyo, Japan, occupied corporate headquarters of port companies Goldman Sachs and EGT, respectively. This international action forced EGT to stop using scab labor in Longview, Washington, and to settle an eight-month-long labor dispute on February 17, 2012. Union members said Occupy was a major reason they got a settlement, after their port closure in the summer and ongoing protests were ignored.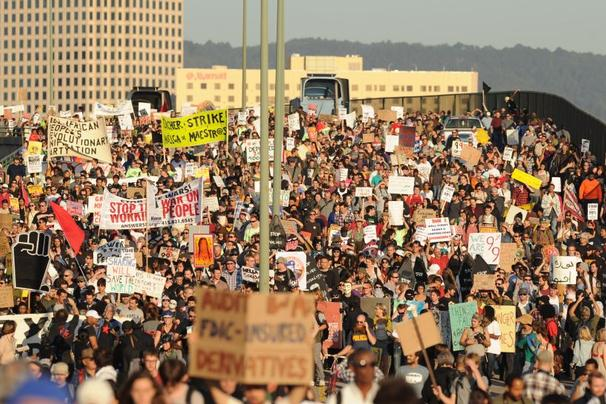 The occupations continue to hold General Assemblies for free speech, free education, intense transformative conversations, and mass actions. Some churches and religious organizations are also providing spaces for General Assemblies during the winter months. Occupations still offer free food and free medical care. Led by a new generation of activists, we are seeing a movement for justice being born that carries forward the legacy of previous movements for justice, evidenced in how it embodies respect for the earth, generosity and care for others, open democracy, justice and human rights for all, appreciation for diversity, and an ethos of love.
Top left: Occupy Boston General Assembly held at Arlington Street Church.

Top right: Occupy Oakland Interfaith Tent at Thanksgiving. Occupy SF gifts on the altar.

Bottom: Oakland Interfaith "Brella" after police raid criminalized tents. December 16, police issued citation for illegal umbrella, posted (in pink) on tent. Occupiers with umbrellas in solidarity with Brella.