A20–234
Girls in Trouble and the Contemporary Jewish Museum
Sunday, 1:00 PM–3:30 PM
Contemporary Jewish Museum, 736 Mission Street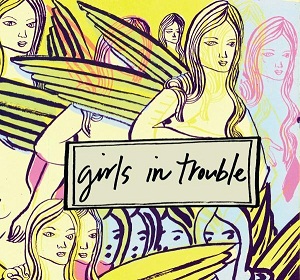 Leave the confines of the conference scene and take a short stroll over to the Contemporary Jewish Museum for an invigorating Sunday afternoon break of music, discussion, and contemporary Jewish culture. A concert by indie-folk-rock band Girls in Trouble blazes the way with their poetic interpretations of the inner worlds of biblical women. Lead singer, songwriter, poet, and fiddler Alicia Jo Rabins gives plangent voice to the stories of Judith, Tamar, Sotah, Chana, Bat Yiftach, and Miriam. Afterwards, SBL members Carol Bakhos, University of California, Los Angeles, and Alan Cooper, Jewish Theological Seminary, engage the artist in a discussion on midrash, biblical women, poetry, and music. Audience questions and comments are encouraged. After the discussion, registrants may tour the museum for free.
A20–408
Miri Hunter Haruach and Sheba's Caravan
Sunday, 8:30 PM–9:30 PM
Moscone Center West–Room 2001
Miri Hunter Haruach, is a scholar, actor, and a singer/songwriter. She is currently adjunct professor in women's spirituality at the California Institute of Integral Studies, San Francisco, lecturer at Saint Mary's College, Moraga, CA, and founder of Project Sheba. She is also past president of the AAR's Western Region and presents at conferences around the world, speaking on topics such as women's spirituality, diversity and multiculturalism, social activism, and various topics related to the Jewish and African diasporas. Her musical CD, based on the Book of Psalms, is entitled The Ways of Love. The song My Soul Will Be Restored, from that CD, was voted International Folk Song of the Year in 2007 by Toronto Exclusive Magazine. Haruach currently lives in Hollywood where she writes, performs, and teaches workshops on the wisdom of the Queen of Sheba and the Tree of Life. She also facilitates workshops and meditation groups on kundalini energy.
A20–409
Amalia Mesa-Bains: Circle of Ancestors
Sunday, 8:30 PM–9:30 PM
Moscone Center West–Room 3024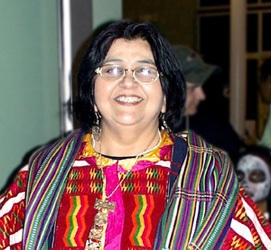 Amalia Mesa-Bains is a psychologist, curator, author, and artist. She received a BA in painting from San Jose State University before earning a MA in interdisciplinary education from San Francisco State University and a PhD in clinical psychology from the Wright Institute of Berkeley, California. She has worked for the San Francisco Unified School District as a psychologist. During the period between 1965 and 1985 she was the regional committee chair for Northern California for the exhibition Chicano Art: Resistance and Affirmation. She is the author of Ceremony of Spirit: Nature and Memory in Contemporary Latino Art (Mexican Museum, 1993). Mesa-Bains has received the San Francisco Mission Cultural Center's Award of Honor (1989), the Association of American Cultures' Artist Award, the Chicana Foundation of Northern California's Distinguished Working Women Award (1990), the INTAR-Hispanic Arts Center's Golden Palm Award (1991), and the MacArthur Fellowship award (1992). Her first exhibit was at the 1967 Phelan Awards show, which took place in the Palace of the Legion of Honor in San Francisco. Mesa-Bains began creating altar installations in 1975. Her artistic work is often autobiographical, relating to her Mexican Catholic heritage. Although these works take the form of an altar, they are not specifically intended for religious use. According to Kristin G. Congdon and Kara Kelley Hallmark, authors of Artists from Latin American Cultures: A Biographical Dictionary (Greenwood, 2002), "Mesa-Bains's altars often honor women who have broken social barriers." Using techniques related to found art, Mesa-Bains has incorporated "dried leaves, rocks, pre-Columbian ceramic fragments" and other unusual materials to construct artworks, such as her 1987 work Grotto of the Virgins, which is dedicated to painter Frida Kahlo (1907–1954), actor Dolores del Río (1905–1983), and to the artist's grandmother.