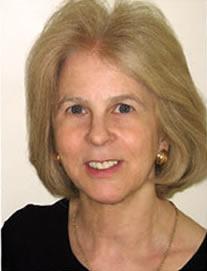 Biblical scholar Elaine Pagels will be honored at the Annual Meeting as the recipient of the 2010 Martin E. Marty Award for the Public Understanding of Religion.
As this year's Marty Award winner, Pagels will be featured at the Marty Forum on Sunday from 3:00 PM–4:30 PM in the Marriott Marquis Ballroom B, where she will be interviewed about her work by Karen L. King, Hollis Professor of Divinity at Harvard University. The Public Understanding of Religion Committee chose Pagels from nominations submitted earlier this year. Awarded annually since 1996, the Marty Award recognizes outstanding contributions to the public understanding of religion. The award goes to those whose work has a relevance and eloquence that speaks not just to scholars but to the broader public as well. 
Pagels is the Harrington Spear Paine Foundation Professor of Religion at Princeton University, where she joined the faculty in 1982. Her area of expertise is in religions of late antiquity, including concepts of evil in Judaism, Christianity, and Islam; attitudes toward religious pluralism; and the influence of biblical religion on sexuality and gender in the Christian West. Before enrolling in graduate school at Harvard University, Pagels majored in history and earned a master's degree in classics at Stanford University, then danced briefly with the Martha Graham Company in New York City. She received her PhD from Harvard University in 1970.
Pagels is best known for her groundbreaking books The Gnostic Gospels (Knopf Doubleday Publishing Group, 1979), The Origin of Satan: The New Testament Origins of Christianity's Demonization of Jews, Pagans, and Heretics (Knopf Doubleday Publishing Group, 1996), and Adam, Eve and the Serpent (Knopf Doubleday Publishing Group, 1989). She has published widely on Gnosticism and early Christianity, and continues to pursue research interests in late antiquity. Her most recent books include her 2003 New York Times bestseller Beyond Belief: The Secret Gospel of Thomas (Knopf Doubleday Publishing Group, also nominated for a Pulitzer Prize) and Reading Judas: The Gospel of Judas and the Shaping of Christianity (Penguin Group, 2007), coauthored with Karen King. Pagel's current project is working on a book entitled Revelations, which will explore the New Testament book of Revelation and other Jewish, Christian, and Pagan books of Revelation. Her study of the Nag Hammadi manuscripts was the basis for The Gnostic Gospels, a popular introduction to the Nag Hammadi library that revolutionized academic and popular understandings of early Christianity. This bestselling book won both the National Book Critics Circle Award and the National Book Award and was chosen by the Modern Library as one of the 100 best nonfiction books of the twentieth century. Pagels also held a prestigious MacArthur Fellowship during 1980–1985.
Pagels's work has been covered by the New York Times, Washington Post, Los Angeles Times, Time, and Publishers Weekly and she has appeared on National Public Radio, the Charlie Rose Show, ABC News, and WGBH Radio Boston, to name just some of the many public forums in which she has contributed to the public understanding of religion.
| | | |
| --- | --- | --- |
|   |   |   |
|   | Please join us at the AAR Annual Meeting for a conversation with Elaine Pagels on Sunday, October 31, 2010, from 3:00 PM–4:30 PM. The conversation, sponsored by the AAR Public Understanding of Religion Committee, will be held in the Marriott Marquis–Ballroom B. |   |
|   |   |   |