| | |
| --- | --- |
| | |
In Memoriam: Nancy McCagney, d. 2013
Nancy McCagney recently passed away of liver cancer. McCagney was an AAR member from 1989 to 2002. She was on the Steering Committee of both the Mysticism Group and the Religion and Ecology Group. She served as Program Unit Chair of the Mysticism Group from 1998-2000.
McCagney earned a BA in philosophy from the University of Wisconsin, Madison, in 1965. She went on to earn an MA in philosophy from the University of Wisconsin, Madison, in 1971 and a MA in religious studies from the University of California, Santa Barbara, in 1984. In 1991, McCagney earned a PhD in religious studies at the University of California, Santa Barbara. Her areas of study were Indian Buddhist philosophy and the philosophies and religions of India. McCagney taught for several years at the University of Delaware, where she had been an assistant professor of philosophy.
---
2013 Templeton Prize Winner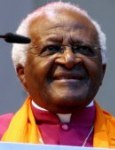 South Africa's Archbishop Emeritus Desmond Tutu has been awarded the 2013 Templeton Prize for his work in advancing spiritual principles such as love and forgiveness. Tutu served as Archbishop of Saint George's Cathedral in Cape Town, South Africa, from 1986 to 1996.
"Desmond Tutu calls upon all of us to recognize that each and every human being is unique in all of history and, in doing so, to embrace our own vast potential to be agents for spiritual progress and positive change," the president and chairperson of the foundation, John M. Templeton Jr., said in a video statement.
The Templeton Prize was established in 1972 by the late global investor and philanthropist Sir John Templeton.
---
American Academy of Arts and Sciences Inducts Three AAR Members into Its 233rd Class of Members
Three AAR members were recently inducted into the 233rd class of the American Academy of Arts and Sciences. Only 198 scholars worldwide from all fields of study were invited to join this prestigious membership in 2013. The newly inducted AAR members are as follows:
Paula Fredriksen, Boston University
John Stratton Hawley, Barnard College
Stuart B. Schwartz, Yale University
Founded in 1780, the American Academy of Arts and Sciences is an independent policy research center that conducts multidisciplinary studies of complex and emerging problems. Current Academy research focuses on science and technology policy, global security, social policy, the humanities and culture, and education. With headquarters in Cambridge, Massachusetts, the Academy's work is advanced by its 5,000 elected members, who are leaders in the academic disciplines, the arts, business, and public affairs from around the world.
---
Association of Theological Schools and Luce Foundation Name Six Faculty Members as 2013–2014 Henry Luce III Fellows in Theology
Selected on the basis of the strength of their proposals to conduct creative and innovative theological research, the six Fellows (below) will engage in year-long research in various areas of theological inquiry. The 2013–2014 Fellows constitute the twenty-first class of scholars to be appointed since the inception of the program in 1993, bringing the total number of Luce Fellows to one hundred and thirty-six. The program is supported by a grant from The Henry Luce Foundation, honoring the late Henry Luce III.
2013–2014 Henry Luce III Theology Fellows
Yury P. Avvakumov
University of Notre Dame
Latin West and Byzantine East in the Twelfth Century: Christians, Churches, and Theologies between 1054 and 1204
Pamela D. Couture
Victoria University
"Where's the Peace to Keep?" Local Religious Peacebuilding by Luba Methodists during the War in Congo, 1996
William Joseph Danaher, Jr.
University of Western Ontario
Witnesses, Confessions, Archives: The Ethics of Transitional Justice
Steffen Ralf Lösel
Emory University
Theologia Cantans: Mozart on God, Church, and Humanity
Laura Salah Nasrallah
Harvard University
Archaeology and the Letters of Paul
Philip L. Reynolds
Emory University
A Study in Mystical Theology
---
Christianity Today Book Awards
Christianity Today has recently announced its 2013 book award winners. The awards serve to recognize outstanding volumes that shed light on people, events, and ideas that shape evangelical life, thought, and mission. This year, 68 publishers nominated 455 titles published in 2012.
The 2013 Christianity Today Book Awards:
Apologetics/Evangelism
Where the Conflict Really Lies: Science, Religion, and Naturalism
Alvin Plantinga (Oxford University Press)
Biblical Studies
A New Testament Biblical Theology: The Unfolding of the Old Testament in the New
G. K. Beale (Baker Academic)
Christianity and Culture
Bad Religion: How We Became a Nation of Heretics
Ross Douthat (Free Press)
Christian Living
Kingdom Calling: Vocational Stewardship for the Common Good
Amy L. Sherman (InterVarsity Press)
The Church/Pastoral Leadership
Center Church: Doing Balanced, Gospel-Centered Ministry in Your City
Timothy Keller (Zondervan)
Fiction
Evangellyfish: A Novel
Douglas Wilson (Canon Press)
History/Biography
Summoned from the Margin: Homecoming of an African
Lamin Sanneh (Wm. B. Eerdmans Publishing Company)
Missions/Global Affairs
Just and Unjust Peace: An Ethic of Political Reconciliation
Daniel Philpott (Oxford University Press)
Spirituality
Still: Notes on a Mid-Faith Crisis
Lauren F. Winner (HarperOne)
Theology/Ethics
The Theology of Jonathan Edwards
Michael J. McClymond and Gerald R. McDermott (Oxford University Press)