| | |
| --- | --- |
| | |
In Memoriam: Charles Stinson, 1931–2012
On March 12, 2012, Charles H. Stinson died at Brookside Nursing Home in White River Junction, VT. Stinson was an AAR member from 1989 to 2002.
Stinson taught at Dartmouth College in the religion department from 1968 until his retirement in 2003. Stinson's primary specialization was in medieval Christian theology.
---

2012 Templeton Prize Winner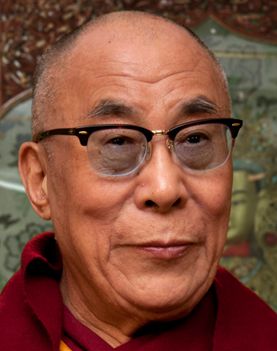 The Dalai Lama, the Tibetan Buddhist spiritual leader whose longstanding engagement with multiple dimensions of science and with people far beyond his own religious traditions has made him an incomparable global voice for universal ethics, nonviolence, and harmony among world religions, has won the 2012 Templeton Prize.
For decades, Tenzin Gyatso, 76, the fourteenth Dalai Lama, has vigorously focused on the connections between the investigative traditions of science and Buddhism as a way to better understand and advance what both disciplines might offer the world. Specifically, he encourages serious scientific investigative reviews of the power of compassion and its broad potential to address the world's fundamental problems — a theme at the core of his teachings and a cornerstone of his immense popularity.
---

American Academy of Arts and Sciences Inducts Three AAR Members into Its 232nd Class of Members
Three AAR members were recently inducted into the 232nd class of the American Academy of Arts and Sciences. Only 220 scholars worldwide from all fields of study were invited to join this prestigious membership in 2012. The newly inducted AAR members are as follows:
Bruce Lincoln, University of Chicago
Paul Mendes-Flohr, University of Chicago
Eleonore Stump, Saint Louis University
Founded in 1780, the American Academy of Arts and Sciences is an independent policy research center that conducts multidisciplinary studies of complex and emerging problems. Current Academy research focuses on science and technology policy, global security, social policy, the humanities and culture, and education. With headquarters in Cambridge, Massachusetts, the Academy's work is advanced by its 5,000 elected members, who are leaders in the academic disciplines, the arts, business, and public affairs from around the world.
---

Association of Theological Schools and Luce Foundation Name Six Faculty Members as 2012–2013 Henry Luce III Fellows in Theology
Selected on the basis of the strength of their proposals to conduct creative and innovative theological research, the six Fellows (below) will engage in year-long research in various areas of theological inquiry. The 2012–2013 Fellows constitute the nineteenth class of scholars to be appointed since the inception of the program in 1993, bringing the total number of Luce Fellows to one hundred and thirty. The program is supported by a grant from The Henry Luce Foundation, honoring the late Henry Luce III.
2012–2013 Henry Luce III Theology Fellows
Curtis Junius Evans
University of Chicago Divinity School
The Federal Council of Churches and Race Relations: An American Experiment
Paul J. Griffiths
Duke University Divinity School
The End: An Eschatological Assay
Karen L. King
Harvard University Divinity School
Martyrdom and Its Discontents: A Historical Essay on Rethinking Religion and Violence in the Formation of Christianity
Richard Lischer
Duke University Divinity School
Telling Lives: Christian Autobiography and Memoir
Amy Plantinga Pauw
Louisville Presbyterian Theological Seminary
Wisdom Ecclesiology
Amos Yong
Regent University School of Divinity
The Renewal of Christian Theology: Systematic and Dogmatic Reconsiderations for a Global Christianity
---

2012–2013 Lilly Theological Research Grant Recipients
Congratulations to the following 2012–2013 Lilly Theological Research Grant winners.
For Faculty Fellowships:
Frances S. Adeney, Louisville Presbyterian Theological Seminary, Women Doing Mission Theology
Eric D. Barreto, Luther Seminary, "A People for God's Name" (Acts 15:14): Theology and Ethnicity in the Acts of the Apostles
Edward B. Foley, Catholic Theological Union, Reenvisioning Ministerial Methods for the Twenty-first Century
Nyasha Junior, Howard University School of Divinity, Womanist Biblical Interpretation: An Introduction
Veli-Matti Kärkkäinen, Fuller Theological Seminary, Creation and Humanity: A Constructive Christian Theology for the Pluralistic World in Dialogue with Intercultural, Interreligious, and Interdisciplinary Perspectives
Rachel S. Mikva, Chicago Theological Seminary, Dangerous Religious Ideas
Kirk Wegter-McNelly, Boston University School of Theology, The Theology and Science of Economics
For Theological Scholars Grants:
Gill Kathleen Goulding, Regis College, Jesuit and Ignatian, Congruent or Confrontational: An Exploration of Ignatian Influence on Jesuit Theologians
Jonathan H. Kim, Talbot School of Theology of Biola University, Faith Development in Third Culture: Exploring the Interrelationship of Thema and Faith
Andrew M. Mbuvi, Shaw University Divinity School, Commentary of 2 Peter and Jude in the New Covenant Commentary Series
Roger Sangburm Nam, George Fox Evangelical Seminary, "Our Fields and Vineyards Belong to Others!": Economic Redistribution in Nehemiah in Light of Recent Epigraphic and Numismatic Finds
Tracy J. Trothen, Queen's School of Religion, Sport, Techno-science, and Religion: The Enhancement Debate Reconsidered
Randi Jones Walker, Pacific School of Religion, History of Christianity in the Pacific Region
For Research Expense Grants:
Amanda W. Benckhuysen, University of Dubuque Theological Seminary, The Legacy of Eve: A History of Women's Interpretation of Genesis 1–3
Kate Bowler, Duke University Divinity School, Uplifted: Christian Immigration and the American Prosperity Chapel
John Daniel Dadosky, Regis College, Image to Insight: The Iconography and Sacred Images of William Hart McNichols
Boyung Lee, Pacific School of Religion, They Cried Out to God: Korean Tongsunggido as a Communal Spiritual Practice Model for North Americans
Edward N. Peters, Sacred Heart Major Seminary, The Synod of Bishops and the New Evangelization
For Collaborative Research Grants (project leader is listed first):
Daniel L. Brunner, George Fox Evangelical Seminary; Aaron J. Swoboda, George Fox Evangelical Seminary; and Jennifer L. Butler, George Fox Evangelical Seminary; "On Earth as in Heaven": Researching and Writing an Evangelical Ecotheology Textbook
Lois M. Farag, Luther Seminary; John Paul Abdelsayed, University of Notre Dame; Febe Armanios, Middlebury College; Mariam Ayad, University of Memphis; Ramez Boutros, University of Toronto; Gawdat Gabra, Claremont Graduate University School of Religion; Maged Hana, Coptic Cultural Center, Cairo; Maged Mikhail, California State University, Fullerton; Samuel Moawad, Universität Münster; Carolyn Ramzy, University of Toronto; Saad Michael Saad, Watani International Newspaper; and Hany Takla, University of California, Los Angeles; The Coptic Christian Heritage: History, Faith, and Culture
Leonard M. Hummel, Lutheran Theological Seminary, Gettysburg, and Steven W. James, Gettysburg College, Chance, Necessity, Love: An Evolutionary Theology of Cancer
---

Christianity Today Book Awards
Christianity Today has recently announced its 2012 book award winners. The awards serve to recognize outstanding volumes that shed light on people, events, and ideas that shape evangelical life, thought, and mission. This year, 52 publishers nominated 390 titles published in 2011.
The 2012 Christianity Today Book Awards:
Apologetics/Evangelism
Good God: The Theistic Foundations of Morality
David Baggett and Jerry L. Walls (Oxford University Press)
Biblical Studies
Paul Through Mediterranean Eyes: Cultural Studies in 1 Corinthians
Kenneth E. Bailey (Intervarsity Academic)
Christianity and Culture
American Religion: Contemporary Trends
Mark Chaves (Princeton University Press)
Christian Living (tie)
The Colors of Hope: Becoming People of Mercy, Justice, and Love
Richard Dahlstrom (Baker Publishing Group)
Jesus + Nothing = Everything
Tullian Tchividjian (Crossway)
The Church/Pastoral Leadership
Renovation of the Church: What Happens When a Seeker Church Discovers Spiritual Formation
Kent Carlson and Mike Lueken (Intervarsity Academic)
Fiction
Caleb's Crossing
Geraldine Brooks (Viking Adult)
History/Biography (tie)
Charles Hodge: Guardian of American Orthodoxy
Paul C. Gutjahr (Oxford University Press)
God and the Atlantic: America, Europe, and the Religious Divide
Thomas Albert Howard (Oxford University Press)
Missions/Global Affairs
Word Made Global: Stories of African Christianity in New York City
Mark R. Gornik (Wm. B. Eerdmans Publishing Company)
Spirituality
Ravished by Beauty: The Surprising Legacy of Reformed Spirituality
Belden C. Lane (Oxford University Press)
Theology/Ethics
The Christian Faith: A Systematic Theology for Pilgrims on the Way
Michael Horton (Zondervan)