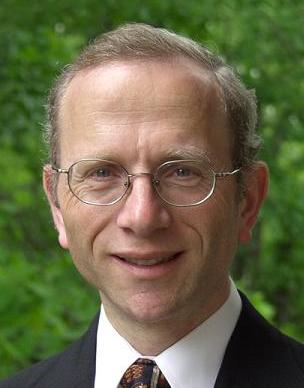 Jewish Studies scholar Jonathan Sarna will be honored at the Annual Meeting as the recipient of the 2011 Martin E. Marty Award for the Public Understanding of Religion.
Awarded annually since 1996, the Marty Award recognizes outstanding contributions to the public understanding of religion. The Public Understanding of Religion Committee chose Sarna from nominations submitted earlier this year. The award goes to those whose work has a relevance and eloquence that speaks not just to scholars but to the broader public as well. As this year's Marty Award winner, Sarna will be featured at the Marty Forum on Sunday from 1:00 PM–2:30 PM in the Moscone Center West Room 3006, where he will be interviewed about his work by Diane Winston, Knight Chair in Media and Religion at the Annenberg School for Communication and Journalism at the University of Southern California.
Sarna is the Joseph H. and Belle R. Braun Professor of American Jewish History at Brandeis University and chief historian of the new National Museum of American Jewish History in Philadelphia, PA. Sarna is recognized as a leading commentator on American Jewish history, religion, and life. Born in Philadelphia, and raised in New York and Boston, Sarna attended Brandeis University, Boston Hebrew College, the Merkaz HaRav Kook in Jerusalem, and Yale University, where he obtained his doctorate in 1979. Sarna has also taught at Hebrew Union College–Jewish Institute of Religion in Cincinnati, Yale University, University of Cincinnati, and Hebrew University, Jerusalem.
Sarna has written, edited, or coedited more than twenty books, including the new Jews and the Civil War: A Reader (New York University Press, 2010), A Time to Every Purpose: Letters to a Young Jew (Basic Books/Perseus, 2008), and New Essays in American Jewish History (coedited with Pamela S. Nadell and Lance J. Sussman, Ktav/AJA, 2010). He is perhaps best known for the acclaimed American Judaism: A History (Yale University Press, 2004). It has been praised as being "the single best description of American Judaism during its 350 years on American soil" and has won many awards: the Everett Family Foundation "Jewish Book of the Year" Award, Jewish Book Council; the American Jewish Historical Society's Saul Viener Prize for the Outstanding Book in American Jewish History, 2003–2004; the Weinberg Judaic Studies Institute 2005 Prize for Best Book in American Jewish Studies; and was selected as a finalist for the 2005 Koret Jewish Book Awards in the history category. It was also selected by Publishers Weekly as a Best Book of 2004 in the religion category and by Choice Magazine as an Outstanding Academic Title for 2004. Sarna's nonfiction A Time to Every Purpose: Letters to a Young Jew was a finalist for the National Jewish Book Award in Jewish Family Literature in 2008. Other books by Sarna have focused explicitly on Judaism and public life, including Jewish Polity and American Civil Society (coedited with Alan Mittleman and Robert Licht, Rowman and Littlefield, 2002), Jews and the American Public Square (also coedited with Alan Mittleman and Robert Licht, Rowman and Littlefield, 2002), and Religion and State in the American Jewish Experience (with David G. Dalin, University of Notre Dame Press, 1997), which was named a Choice magazine Outstanding Academic Book of 1998.
Sarna has participated in many public forums, including The Washington Post's "On Faith" online forum on religion and politics, to which he is a regular contributor. Articles, reviews, and commentaries by Sarna appear regularly in scholarly and popular journals and he sits on half-a-dozen editorial committees. He has contributed to a variety of online and printed news sources, including the Jewish Daily Forward and the Boston Globe, and directs the Gralla Program for Journalists at Brandeis University. His well-known work in the field of education is another example of his commitment to the public understanding of religion. Sarna won the Distinguished Achievement Award for Excellence in Educational Publishing, Social Studies Textbooks, Grades 6–8 (2007), was awarded the Benjamin J. Shevach Memorial Award, Hebrew College, as a "consummate example of the Jewish educator" (2000–2001), and received a Bureau of Jewish Education Award in 2001. In 2009, Sarna was elected to the American Academy of Arts and Sciences.
| | | |
| --- | --- | --- |
|   |   |   |
|   | Please join us at the AAR Annual Meeting for a conversation with Jonathan Sarna on Sunday, November 20, 2011, from 1:00 pm–2:30 pm. The conversation, sponsored by the AAR Public Understanding of Religion Committee, will be held in Moscone Center West, Room 3006. |   |
|   |   |   |