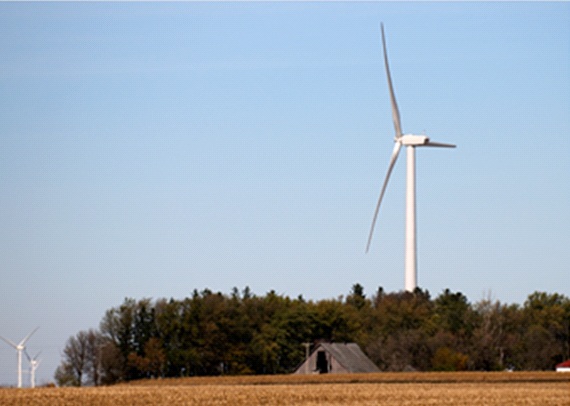 The AAR is making it easy for members to purchase Renewable Energy Credits when traveling to the Annual Meetings. By simply clicking a box during the registration process, members can choose to give $15 to NativeEnergy.
The AAR's Sustainability Task Force selected NativeEnergy because of its commitment to reducing greenhouse gases while supporting its sustainability projects. NativeEnergy helps assist Native American, farmer-owned, community-based renewable energy projects that create social, economic, and environmental benefits. These projects displace electricity from fossil fuels and reduce other greenhouse gas emissions.
The AAR and SBL are pleased to have collected a total of $8,250 from 550 participants in this carbon offset program for 2011. In addition, the AAR and SBL earned $274.60 from the sale of Bay Area Rapid Transit (BART) vouchers. Along with a $500 donation for the AAR and SBL's staff travel, we sent NativeEnergy a check in the amount of $9,024.60, which went towards the development of The Iowa Farms Wind Project in Northern Iowa.
If you would like to see the project dedication video for the Iowa project the 2011 contributors supported with the carbon offsets, click here.
To learn more about NativeEnergy, visit www.nativeenergy.com.The AAR and SBL are continuing this program in 2012. We encourage you to make this inexpensive commitment to helping make our meetings more environmentally friendly.
Thank you to all of our 2011 AAR contributors:
Ibrahim Abraham
Caroline  Caro Addington Hall
David Aftandilian
Javier R. Alanis
Gregory D. Alles
Elizabeth Allison
Xochitl Alvizo
William L. Ames
Laura Ammon
Stephen Ward Angell
Ellen T. Armour
Daniel A. Arnold
Mary Ashley
Emily Askew
Rick Axtell
Margaret Aymer
Edward Ian Bailey
Jennifer Bailey
Linda L. Barnes
David Barnhill
Nathaniel Barrett
Shelly Barrick Parsons
Tom Beaudoin
Nancy Bedford
Teresa Berger
Evan Berry
Malinda Berry
Stephen Bevans
Anna Bialek
Bede Benjamin Bidlack
Anna Bigelow
Brad Binau
Anna Blaedel
Heather Blair
Kathryn Blanchard
Whitney Bodman
Chris Boesel
Karla Bohmbach
Jessica A. Boon
Donna Bowman
Kathlyn Breazeale
Adam D. J. Brett
W. A. Breytspraak
Mark S. Brocker
Frank Burch Brown
Sid Brown
Dan Brunner
Joseph Bulbulia
Grace G. Burford
Marie Campbell
Rose Caraway
Richard M. Carp
Colleen Carpenter
Amy Carr
Raymond Carr
Alexandra Carroll
Christopher Carter
Matthew Casey
Mark Chancey
G. Clarke Chapman
Christopher Chapple
Christopher W. Chase
James M. Childs
Min-Ah Cho
Rosina Christ
Mary Churchill
William Clark
Forrest Clingerman
Aryeh Cohen
William J. Collinge
Brian Collins
Joseph Conley
Greg Cootsona
M. Shawn Copeland
Susannah Cornwall
Peggy Cowan
Shannon Craigo-Snell
Suzanne Crawford O'Brien
Jane F. Crosthwaite
Jeremy Cruz
Emily Culpepper
Melissa Anne-Marie Curley
Horacio Da Valle
Lisa Dahill
Lisle Dalton
Ryan Damron
Joshua Daniel
Barbara Darling
Marjorie H. Davis
Mark Deutsch
Andrew Dole
Neil Douglas-Klotz
Andrew Dunning
Jonathan Edelmann
William Elkins
Marvin M. Ellison
James L. Empereur
Leif Gunnar Engedal
Priscilla Eppinger
Rebecca Esterson
Wendy Farley
Juan Floyd-Thomas
Jason Fout
Sarah Fredericks
Amy Frykholm
Mary McClintock Fulkerson
Alexander Gardner
Robert Geraci
Jonny Gerig Meyer
Linda Gibler
Hayley Glaholt
Hank Glassman
Mark Godin
George Gonzalez
Roger S. Gottlieb
Elaine Graham
Marion S. Grau
Brian Green
Jeffrey Greenman
Brett Greider
Gregory Grieve
Wendy Griffin
Michael Gutzler
David Haberman
Rosalind I. J. Hackett
Lori Brandt Hale
W. David Hall
Charles Hallisey
Gösta Hallonsten
Erik Hammerstrom
Tona Hangen
G. Simon Harak
Douglas S. Hardy
Ryan Harper
Charlotte Harrison
Douglas Harrison
Laura Hartman
Shannon Harvey
Andrew Hass
Susan E. Henking
Mike Higton
Harvey Hill
Susan E. Hill
Titus Hjelm
John F. Hoffmeyer
Michael Hogue
Susan Hollis
Bradley P. Holt
Jonathan Homrighausen
Anita Houck
Joseph Hough
Nancy R. Howell
Tripp Hudgins
Cristine Hutchison-Jones
Andrew B. Irvine
Andrew Irving
Barbara R. Isaacs
Gerard Jacobitz
Christine M. Jacobsen
Sarah Jacoby
Melissa James
Willis Jenkins
Kelly S. Johnson
David L. Johnston
Jay Johnston
Kristin Johnston Largen
John Jones
Mark Juergensmeyer
Darlene Juschka
Lisa Karnan
Emily Katz
Laurel D. Kearns
Felicity Brock Kelcourse
Catherine Keller
Mary Keller
Ari Y. Kelman
M. Whitney Kelting
Eliza Kent
Kim Sung-Hae
Chris Klassen
Anne C. Klein
Stefanie Knauss
Hilda Koster
Christine Kraemer
Lance D. Laird
Thomas Leenders
Kevin Lenehan
John K. Leonard
A. David Lewis
Justin Jaron Lewis
Steven Lindquist
Dawn Llewellyn
Reid Locklin
Jeffery D. Long
John Long
Kimberly Long
Lois Ann Lorentzen
Jessica Lowe
Ivory Lyons
Robert MacSwain
Otto A. Maduro
Joanne Maguire Robinson
John Makransky
Lawrence Mamiya
Marie Marquardt
Ellen Ott Marshall
Charles Mathewes
Rex D. Matthews
Alice Maung-Mercurio
Barbara Jo McClure
Tom McCollough
Jeffrey McCurry
John McDargh
Thomas J. McElligott
Barbara A. McGraw
David McMahan
Kirsten Mebust
Néstor Medina
David Mellins
Nancy Menning
Calvin Mercer
Alan Meyers
Jack Miles
Veronice Miles
Julie Miller
Bonnie Miller-McLemore
Diane Moore
Jonathan Moore
Rebecca Moore
Martha Moore-Keish
Ebrahim E. I. Moosa
Christopher Moreman
Rachel Muers
Fritz Muntean
Leslie A. Muray
Larry Murphy
Cari Myers
Lance Nelson
Sara Elaine Neswald
Elizabeth Norcross
Rebecca Sachs Norris
Isabelle C. Noth
Aurica Nutt
Vivian-Lee Nyitray
Diane  B. Obenchain
Aline (Macha) O'Brien
Joseph T. O'Connell
John  J. O'Keefe
Duane Olson
Scott Paeth
Nadia Pandolfo
Tam Parker
Christopher Patrick Parr
Barbara A. B. Patterson
Susie Paulik Babka
Richard K. Payne
Jess Peacock
Christiana Peppard
Lucy Peppiatt
Marcus Perman
Karl E. Peters
Regina Pfeiffer
Elizabeth Phillips
Jeff Phillips
Andrew Pierce
Tina Pippin
Annabella Pitkin
Ellen Posman
Stephanie Day Powell
Sheri Prud'homme
Johannes Quack
John Quiring
Darby Kathleen Ray
Kay Read
John Reardon
Jane Carol Redmont
Andrew Reeves
Jenna Reinbold
Myriam Renaud
David Rensberger
Alan Richard
Marguerite Rigoglioso
Sue Rodelius Dickson
Cornish R. Rogers
Errol Rohr
Or Rose
Gil Rosenberg
Lynn Ross-Bryant
Nora Rubel
Janet Ruffing
David Rutledge
C. Pierce Salguero
Sean Patrick Sanford
Stuart Ray Sarbacker
Paul Sartison
Elizabeth A. Say
Jame Schaefer
Judith K. Schaefer
Christian A. B. Scharen
C. Hannah Schell
Joel Schmidt
A. Gregory Schneider
Carolyn Schneider
Robert J. Schreiter
Darla Schumm
Anastasia Scrutton
Mindy McGarrah Sharp
Jodi Shaw
Miranda Shaw
Lisa Sideris
Laury Silvers
Laura Simmons
Jeanyne Slettom
Daniel R. Smith
Susanna Snyder
Son Jin
Katherine Sonderegger
Atle Ottesen Sovik
Garry Sparks
Linda Spencer
Susan Spilecki
Michael Stanley-Baker
John C. M. Starkey
Michael Stausberg
Naomi Steinberg
Jeremy Stolow
Jerome A. Stone
Mary Streufert
Sandra Sullivan-Dunbar
Kenneth Surin
Sara Swenson
Jon Paul Sydnor
Lynn Szwaja
Gabrielle Tayac
Barbara Taylor
Sarah McFarland Taylor
John Thatamanil
Deanna A. Thompson
John M. Thompson
James Thrall
Robert Thurman
Jeanine Thweatt-Bates
Joel E. Tishken
J. Terry Todd
Emilie M. Townes
Marit Trelstad
Rachel Tulloch
Donald Turner
Gray Tuttle
Elizabeth Urban
Lane Van Ham
Cristina Vanin
Manuel A. Vasquez
Jessica Vazquez Torres
Christopher Vena
Aana Marie Vigen
Alana Vincent
Gregory Voiles
Dirk Von Der Horst
Michelle Voss Roberts
John Wall
Maureen Walsh
Michael J. Walsh
Julia Watts Belser
Gisela Webb
Judith Weisenfeld
Alford T. Welch
Traci C. West
Sondra Wheeler
Lawrence Whitney
Melissa M. Wilcox
Roger Willer
Wendy Wiseman
Connor Wood
Wendy M. Wright
William A. Wright
Michiko Yusa
Randall C. Zachman
Simeon Zahl
Homayra Ziad
Yvonne Zimmerman
Hetty Zock
Greg Zuschlag