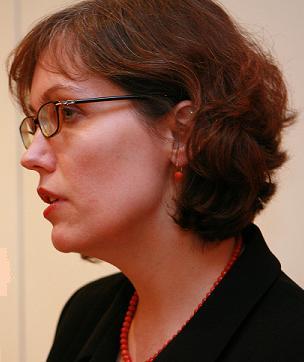 Ena Heller has been named the 2010 AAR Religion and the Arts Award winner. She is the Executive Director of the Museum of Biblical Art (MOBIA) in New York City. Heller's professional career has focused on building places of learning within museums. While working on a PhD in art history from the Institute of Fine Arts, New York University, with a specialty in medieval art and architecture (earned in 1997), Heller honed her teaching skills through appointments at the College of the Holy Cross (Worcester, MA) and Manhattanville College (Purchase, NY), and learned the workings of various museum departments through jobs at the Metropolitan Museum of Art and the Museum of Modern Art.
After graduation, Heller focused her attention on establishing new places of learning through art, first at the Gallery at the American Bible Society (1998), and later as founding director of the Museum of Biblical Art (2005). MOBIA was conceived as a learning museum, whose unique mission is illustrated by noteworthy exhibitions and publications. Among them, Heller edited and contributed to the volumes Perspectives on Medieval Art: Learning through Looking (D. Giles Ltd., 2009) and Reluctant Partners: Art and Religion in Dialogue (American Bible Society, 2004), and the exhibition catalogs Tobi Kahn: Sacred Spaces for the 21st Century (D. Giles Ltd., 2009) and Icons or Portraits? Images of Jesus and Mary from the Collection of Michael Hall (American Bible Society, 2001).
At MOBIA and elsewhere — the Society of Architectural Historians, College Art Association, the Council of American Jewish Museums, the Institute of Fine Arts, and numerous museums and universities throughout the country — Heller has presented papers and public lectures which emphasize the need for teaching art, and the connection between art and religion. In parallel, her independent scholarly research has resulted in contributions to volumes such as From the Margins: Women of the Hebrew Bible and their Afterlives (Sheffield Phoenix Press Ltd., 2009) and Women's Space: Patronage, Place, and Gender in the Medieval Church (State University of New York Press, 2005).
| | | |
| --- | --- | --- |
|   |   |   |
|   | Heller will be the subject of a Special Topics Forum at this year's Annual Meeting in Atlanta on Sunday, October 31, at 5:00 PM in the Marriott Marquis, Room A701. Sponsored by the Religion and the Arts Award Jury, the Forum will include Terrence E. Dempsey, presiding, and panelists Ena Heller, Diane Apostolos-Cappadona, and Cordula Grewe. |   |
|   |   |   |