| | |
| --- | --- |
| | |
2011 Templeton Prize Winner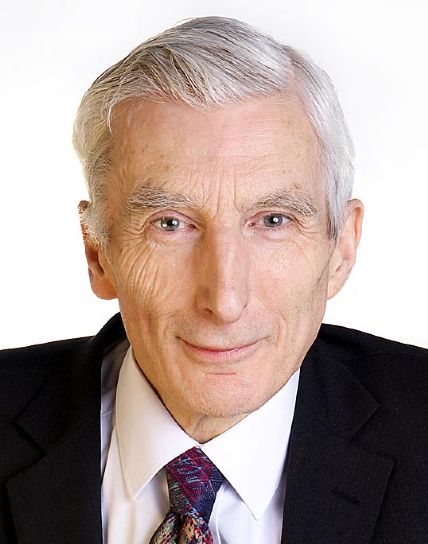 Lord Martin J. Rees, a former president of the Royal Society, was awarded the £1-million Templeton Prize this week. Rees is a theoretical astrophysicist; Master of Trinity College, one of Cambridge University's top academic posts; and former president of the Royal Society, the highest leadership position within British science. He has spent decades investigating the implications of the big bang and the nature of black holes.
The Templeton Prize "honors a living person who has made exceptional contributions to affirming life's spiritual foundation," said the Templeton Foundation in a statement.
"The questions Rees raises have an impact far beyond the simple assertion of facts, opening wider vistas than any telescope ever could," John M. Templeton Jr. said. "By peering into the farthest reaches of the galaxies, Martin Rees has opened a window on our very humanity, inviting everyone to wrestle with the most fundamental questions of our nature and existence."
American Academy of Arts and Sciences Inducts Four AAR Members into Its 231st Class of Members
Four AAR members were recently inducted into the 231st class of the American Academy of Arts and Sciences. Only 212 scholars worldwide from all fields of study were invited to join this prestigious membership in 2011. The newly inducted AAR members are as follows:
Franklin I. Gamwell, University of Chicago
E. Brooks Holifield, Emory University
Margaret M. Mitchell, University of Chicago
Ann Taves, University of California, Santa Barbara
Founded in 1780, the American Academy of Arts and Sciences is an independent policy research center that conducts multidisciplinary studies of complex and emerging problems. Current Academy research focuses on science and technology policy, global security, social policy, the humanities and culture, and education. With headquarters in Cambridge, Massachusetts, the Academy's work is advanced by its 5,000 elected members, who are leaders in the academic disciplines, the arts, business, and public affairs from around the world.
Lenoir-Rhyne University and Southern Seminary Joining Forces
Following a feasibility study, the boards of Lenoir-Rhyne University and Lutheran Theological Southern Seminary (LTSS) have recommended that the institutions enter into a formal collaborative partnership leading to a merger of the institutions. The plan calls for LTSS to become Lenoir-Rhyne's school of theology and remain a seminary located in Columbia, South Carolina. LTSS will maintain its name and own identity while integrating with the larger university system. The study leading up to this recommendation was coordinated and fully supported by the Evangelical Lutheran Church in America (ELCA), which supports and partners with both institutions. The merger will begin immediately and will be completed in the summer of 2012.
Meadville Lombard Theological School and Andover Newton Theological School End Plans for Merged Multifaith Theological University
Talks between Meadville Lombard Theological School and Andover Newton Theological School to create a new multifaith theological university have ended. The two schools have indicated that they will go their separate ways.
The Rev. Dr. Nick Carter, president of Andover Newton, said that he was disappointed that the talks with Meadville Lombard fell through. However, he said, "the vision for multifaith theological education is alive and well," and that Andover Newton Theological School is still exploring the idea with other partners.
Meanwhile, Meadville Lombard Theological School will be maintaining its independence. In January, Meadville Lombard announced that it had agreed to sell its main academic and administrative building to the University of Chicago for an undisclosed price. Meadville Lombard is in the process of searching for new space in Chicago, Illinois.
Society of Biblical Literature Awarded a $300,000 NEH Grant for Interactive Website
The Society of Biblical Literature was recently awarded a $300,000 grant from the National Endowment for the Humanities (NEH) for the development of a new interactive website. The website will connect scholars and their research to one another, and will provide an avenue for credible scholars to disseminate scholarly research and commentary directly to the public.
The site will begin production immediately, with a planned launch in 2013. Once completed, the site will become a public platform for SBL members to speak directly to new audiences and to gain a stronger voice in the public square when questions arise about the Bible and its contexts.
"This is a huge opportunity for SBL to showcase the work of biblical scholars, educate and engage the public, and foster biblical scholarship," said John Kutsko, executive director of SBL. "It also goes without saying that this award comes at a time of increasing pressure on the public support of the humanities at the state and federal levels. Thus, the award commitment is all the more significant in this context, and we are all the more grateful that the NEH has made us stewards of their support of scholarship, education, and the humanities.
Henry Luce Foundation Awards $350,000 Grant to Episcopal Divinity School
The Henry Luce Foundation of New York awarded the Episcopal Divinity School a grant of $350,000 over a four-year period to fund a dedicated program of interfaith studies. The grant will be used to enlarge faculty training, expand curriculum, and develop online continuing education in other faith traditions.
"Our priorities for the first year," said Katherine Hancock Ragsdale, president and dean of Episcopal Divinity School, "are to hire a scholar to teach the history of Islam, and to design and coordinate a program for faculty that integrates field visits to the many interfaith resources in the Boston area."
Association of Theological Schools and Luce Foundation Name Six Faculty Members as 2011–2012 Henry Luce III Fellows in Theology
Selected on the basis of the strength of their proposals to conduct creative and innovative theological research, the seven Fellows (below) will engage in year-long research in various areas of theological inquiry. The 2011–2012 Fellows constitute the eighteenth class of scholars to be appointed since the inception of the program in 1993, bringing the total number of Luce Fellows to one hundred and eleven. The program is supported by a grant from The Henry Luce Foundation, honoring the late Henry Luce III.
2011-2012 Henry Luce III Theology Fellows
Khaled Emmanuel Anatolios
Boston College School of Theology and Ministry
Deification through the Cross: An Eastern Christian Soteriology
John P. Burgess
Pittsburgh Theological Seminary
Orthodoxy and National Identity in Post-Soviet Russia: Lessons from Patriarch Kirill's Program of Votserkovlenie
Charles E. Hill
Reformed Theological Seminary
"Many Antichrists Have Come": Dissent and the Beginnings of the Johannine Corpus
Mark D. Jordan
Harvard University Divinity School
Incarnation, Sacrament, and Christian Character in Aquinas
Paul Chang-Ha Lim
Vanderbilt University Divinity School
God's Problems: Revelations, Strange Providences, and the Religious "Other" in Enlightenment England
Sandra M. Schneiders
Jesuit School of Theology of Santa Clara University
Risen Jesus, Cosmic Christ: Biblical Spirituality in the Gospel of John
Chloë F. Starr
Yale University Divinity School
Chinese Intellectual Christianity
2011–2012 Lilly Theological Research Grant Recipients
Congratulations to the following 2011–2012 Lilly Theological Research Grant winners.
For Faculty Fellowships:

Lois M. Farag, Luther Seminary, The Balance of the Heart: Desert Spirituality for Twenty-first Century Christians
Uriah Y. Kim, Hartford Seminary, The Politics of Othering in the Book of Judges
Kristin Johnston Largen, Lutheran Theological Seminary, Gettysburg, Seeking God Among our Neighbors:  Toward an Interfaith Systematic Theology
Haruko Nawata Ward, Columbia Theological Seminary, Christian Theology of Martyrdom and Women Martyrs in Early Modern Japan
Paulinus Ikechukwu Odozor, University of Notre Dame, Moral Theology: Truly African, Truly Christian
Mayra Rivera, Harvard University, Manifold Incarnations: On Body, Flesh, and Spirit
Andrea Christina White, Emory University, Black Women's Bodies and God Politics: A Womanist Theological Anthropology
For Theological Scholars Grants:

Sang-Ehil Han, Pentecostal Theological Seminary, Reimagining the Grammars of Salvation: Constructing a Theological Narrative of Redemption in the Korean Culture of Han
Allen G. Jorgenson, Waterloo Lutheran Seminary, Taking Place Seriously: Luther, Schleiermacher, and Indigenous Insights
Yung Suk Kim, Samuel DeWitt Proctor School of Theology, A Study of the "I Am" Sayings of Jesus in John's Gospel in a Pluralistic Life Context of America Today
Kimberly Bracken Long, Columbia Theological Seminary, A Practical Theology of Christian Marriage
Peter Vethanayagamony, Lutheran School of Theology, Chicago, Homemakers or Career Women?: The Identity, Career, and Contributions of the Telugu Lutheran Bible Women
Vitor Westhelle, Lutheran School of Theology, Chicago, Eschatology and Space: The Lost Dimension in Theology Past and Present
For Research Expense Grants:

Paul E. Capetz, United Theological Seminary of the Twin Cities, Christology: A History
Iain William Provan, Regent College, Genesis as Philosophy
M. Jean Stairs, Queen's School of Religion, Sisters of Spirit: An Investigation in the Spirituality, Practices, and Contributions of Nontraditional Women's Groups in the United Church of Canada
Daniel C. Timmer, Reformed Theological Seminary, The Synchronic-Diachronic Quandary in Biblical Studies: Toward Integration of Polarized Methods
Tisa Wenger, Yale University, Religious Freedom in U.S. History, 1850–1950
For Collaborative Research Grants (project leader is listed first):

Alice Ogden Bellis, Howard University, Stephen Delamarter, George Fox Evangelical Seminary, and Jeremy Brown, George Fox Evangelical Seminary, The Howard University School of Divinity André Tweed Ethiopian Manuscript Digitization, Cataloguing, and Dissemination Project
David John Downs, Fuller Theological Seminary, and Jennifer A. Downs, Weill-Cornell Medical College, "New Creation is Everything": Christian Identity, Male Circumcision, and HIV/AIDS in Northwest Tanzania
Karen E. Mason, Gordon-Conwell Theological Seminary, and James D. Wines Jr., McLean Hospital/Harvard Medical School, Clergy Engagement in Suicide Intervention and Aftercare
Steven M. Studebaker, McMaster Divinity College, and Lee Beach, McMaster Divinity College, The Emerging Church in Canada
Christianity Today Book Awards
Christianity Today has recently announced its 2011 book award winners. The awards serve to recognize outstanding volumes that shed light on people, events, and ideas that shape evangelical life, thought, and mission. This year, 62 publishers nominated 427 titles published in 2010.
The 2011 Christianity Today Book Awards:
Apologetics/Evangelism
The Passionate Intellect: Christian Faith and the Discipleship of the Mind
Alister Mcgrath (InterVarsity Press)
Biblical Studies (tie)
The Good and Evil Serpent: How a Universal Symbol Became Christianized
James H. Charlesworth (Yale University Press)

The Historical Jesus: Five Views
James K. Beilby and Paul Rhodes Eddy, Editors (Intervarsity Academic)

Christianity and Culture
Christians are Hate-Filled Hypocrites...and Other Lies You've Been Told: A Sociologist Shatters Myths from the Secular and Christian Media
Bradley R. E. Wright (Bethany House)

Christian Living
What was Lost: A Christian Journey Through Miscarriage
Elise Erikson Barrett (Westminster John Knox Press)

The Church/Pastoral Leadership
Almost Christian: What the Faith of Our Teenagers is Telling the American Church
Kenda Creasy Dean (Oxford University Press)

Fiction
Of Love and Evil: The Songs of the Seraphim Book Two
Anne Rice (Knopf)

History/Biography
Hope in a Scattering Time: A Life of Christopher Lasch
Eric Miller (Wm. B. Eerdmans Publishing Company)

Missions/Global Affairs
Redeemed by Fire: The Rise of Popular Christianity in Modern China
Lian Xi (Yale University Press)

Spirituality
Practice Resurrection: A Conversation on Growing Up in Christ
Eugene H. Peterson (Wm. B. Eerdmans Publishing Company)
Theology/Ethics
After You Believe: Why Christian Character Matters
N. T. Wright (HarperOne)