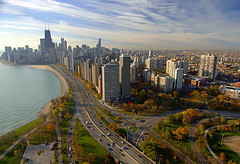 Few cities in the world can match the character and culture of Chicago. Whether you're visiting for the AAR Annual Meeting or accompanying a loved one to see the sites of the city, you can expect to find the best in dining, entertainment, and accommodations here in the largest and most visited city in the Midwest.

In addition to its unrivaled accessibility, Chicago offers something for everyone — world-renowned restaurants, premier shopping, a vibrant theater community, local music venues, and dozens of neighborhoods with their own unique flair of cultural and culinary offerings.

This is the city where the skyscraper was born and architecture is king. Below the miles of towering majesty, there is plenty to see and experience on the ground. Before you leave, be sure to stop by Navy Pier, do some shopping on the Magnificent Mile, visit Museum Campus, explore a cultural neighborhood, see a show at one of the infamous theaters, and indulge in a Chicago-style hot dog and deep dish pizza.

With so many sites worth seeing, Chicago should be called "The City of Broad Horizons." It is with great pleasure that the AAR welcomes you to the city and we sincerely hope that you enjoy your visit.
For more Chicago visitor information, guidebooks, and maps, contact the Chicago Convention and Visitor's Bureau or view their website at www.choosechicago.com.