---
Adler Planetarium
1300 South Lake Shore Drive
312-922-7827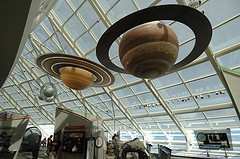 The Adler Planetarium, the first planetarium in the Western hemisphere, fuels the imagination with exhibitions, state-of-the-art computer technology, hands-on activities for the family, and three planetarium theaters. Make sure to catch a space show in the all-digital Definiti Space Theater on a screen that is 360-degrees and more than fifty-feet in diameter. Check out the Gemini 12 capsule, hop on the Lunar Leap, and step on the Lunar Scale to find out how much you weigh on the Moon — all in the Adler's popular permanent exhibition "Shoot for the Moon." The planetarium is located on Lake Shore Drive in Chicago's Museum Campus. Admission plus one show: Adults $19, Children (3–14) $15, additional show $7. Experience Adler After Dark, November 15, 6:00–10:00 PM, a 21+ event.
Hours*
Monday–Friday, 10:00 AM–4:00 PM
Saturday and Sunday, 10:00 AM–4:30 PM
---
Dazzle your eyes with the spectacular architecture of Renzo Piano and the artistic genius of Picasso, Matisse, and more, shown to their full glory in the beautiful galleries of the modern wing. In newly renovated galleries throughout the museum, the full array of masterpieces spanning 5,000 years is more captivating than ever! Ongoing exhibits include BIGsmall and Chagall's America Windows. Please check the website for the upcoming November 2012 exhibits.
Hours*
Monday–Wednesday and Friday, 10:30 AM–5:00 PM
Thursday, 10:30 AM–8:00 PM
Saturday and Sunday, 10:30 AM–5:00 PM
---
Chicago's highest quality architecture tours (choice of eighty-five different tours) led by highly-trained volunteer docents, including architecture river cruises, walking tours, highlights by bus, bicycle, and Segway tours. Check our website for detailed schedules.
---
Come visit Chicago's acclaimed landmark home of the arts. Daily programs and exhibitions cover a wide range of the performing, visual, and literary arts presented by the Chicago Department of Cultural Affairs. See the world's largest Tiffany stained-glass dome.

Hours*
Monday–Thursday, 10:00 AM–7:00 PM
Friday, 10:00 AM–6:00 PM
Saturday, 10:00 AM–5:00 PM
Sunday, 11:00 AM–5:00 PM
Closed holidays
---
If you are curious about the city's past, present, and future, the Chicago History Museum should be your first stop. Please call for hours, pricing, and offerings. Ongoing exhibits include Sensing Chicago, Crossroads Gallery, Abraham Lincoln and Lincoln's Chicago, My Chinatown, Facing Freedom, and Lincoln Park Block by Block. Check out the website for exhibitions in November 2012.

Hours*
Monday–Saturday, 9:30 AM–4:30 PM
Sunday, 12:00 PM–5:00 PM
---
Celebrating over fifty years of sharing history, DuSable Museum of African American History is the nation's first independent museum dedicated to the collection, preservation, and study of the history and culture of Africans and Americans of African descent. Exhibits, concerts, films, children's events, and literary discussions are just a few of the programs offered by the museum. Ongoing exhibits include "Red, White, Blue, and Black: A History of Blacks in the Armed Forces," "A Slow Walk to Greatness: The Harold Washington Story," "Africa Speaks," and the Ames Mural. Admission: Adults $10, Students and Seniors $7, Children (6–13) $3, Children under 6 are free. Free admission for all on Sundays.

Hours*
Closed Monday
Tuesday–Saturday, 10:00 AM–5:00 PM
Sunday, 12:00 PM–5:00 PM
---
Field Museum
1400 South Lake Shore Drive
312-922-9410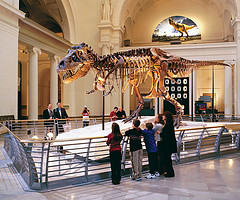 Discover Sue, the world's largest and most complete Tyrannosaurus Rex ever found! Descend into an Egyptian tomb and see twenty-three Egyptian mummies and 5,000-year-old hieroglyphics, shrink to 1/100th of your natural size, get a bug's-eye view in Underground Adventure, be dazzled in our Halls of Gems and Jades, come nose-to-nose with the man-eating lions of Tsavo, walk among dinosaurs in our newly-renovated dinosaur hall, or explore 13,000 years of history from the Ice Age mammoth hunters to the temples of the Aztecs in the Ancient Americas Hall. Experience Chicago's only completely digital 3-D theater featuring "Waking the T. Rex." Admission: Adults $15, Students and Seniors $12, Children (4–11) $10. Some exhibits require an additional ticket.

Hours*
Daily 9:00 AM–5:00 PM; Last admission is at 4:00 PM
---
This complex served as Wright's private residence, studio, and architectural laboratory during the first twenty years of his career — from 1889 to 1909. The Frank Lloyd Wright Preservation Trust offers guided interior tours of the home and studio and walking tours of the neighborhood. Tickets for the guided interior tour are $15 for adults and $12 for children (4–17) and seniors (65+). Children 3 and under are free. Tours offered daily from 11:00 AM–4:00 PM, approximately every twenty minutes. Advance tour tickets are recommended and are available online. Oak Park contains the world's largest concentration of Wright-designed structures — twenty-seven in all. A self-guided exterior audio tour is available from 10:00 AM–3:30 PM daily in six languages. A guided exterior walking tour of the neighborhood is only offered on weekends.
---
This museum is one of Chicago's most sophisticated sites. Guests can sip champagne while strolling through the sculpture garden and terrace overlooking Lake Michigan or listen to music while viewing some of the world's most celebrated art.

Hours*
Closed Mondays
Tuesday, 10:00 AM–8:00 PM
Wednesday–Sunday, 10:00 AM–5:00 PM
---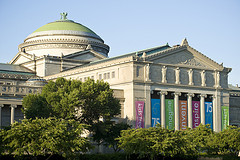 Come visit the largest science museum in the Western Hemisphere! Housed in the only remaining building from the 1893 World's Fair, this museum is a Chicago must-see! You'll experience fourteen acres of hands-on exhibits and have the chance to stand before a forty-foot tornado, climb aboard a World War II German submarine, take a run in a human-sized hamster wheel, descend into an Illinois coal mine, tour a fully-functioning eco-friendly home, board a 727 plane hanging from the ceiling, transmit your pulse to a thirteen-foot 3-D beating heart, and much more! It's fun and interactive! The museum has a legacy of being one of the first hands-on museums in the nation. It's not a place where you walk around quietly and observe. You get involved in the fun—and learn by doing.

Hours*
Daily, 9:30 AM–4:00 PM
---
This museum contains a world-famous collection of artifacts from the ancient Middle East, including a recreation of an Assyrian palace and a seventeen-foot-tall statue of King Tut.

Hours*
Closed Mondays
Tuesday, 10:00 AM–6:00 PM
Wednesday, 10:00 AM–8:30 PM
Thursday–Saturday, 10:00 AM–6:00 PM
Sunday, 12:00 PM–6:00 PM
---
This nature museum is the urban gateway to nature and science. Touch live animals, learn about food's lifecycle and let your imagination go in the Judy Istock Butterfly Haven.

Hours*
Monday–Friday, 9:00 AM–5:00 PM
Saturday and Sunday, 10:00 AM–5:00 PM
---
The library offers a collection of books, art, films, medals, and uniforms along with live weekly events and gallery exhibits on the Citizen Soldier and American military history. Admission is free.

Hours*
Monday–Friday, 8:30 AM–4:30 PM
Closed weekends
---
Shedd Aquarium
1200 South Lake Shore Drive
312-939-2438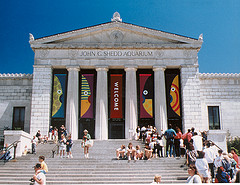 At Shedd Aquarium, animals connect you to the living world, inspiring you to make a difference. From whales to snails, tarantulas to turtles, you'll meet 32,000 creatures from aquatic habitats around the world. Explore Shedd's Abbott Oceanarium, where you can get face-to-face with beluga whales, dolphins, sea otters, sea lions, and penguins. See the aquatic show, starring the dolphins, belugas, and more, and don't miss the "Jellies" special exhibit. Then meet some of the aquarium's critters up close during live animal encounters in the Waters of the World galleries, talk to a diver in the 90,000-gallon Caribbean Reef, take a walk through a flooded forest in Amazon Rising, and watch sharks overhead in Wild Reef. And visit Granddad, the oldest fish in any aquarium or zoo!

Hours*
Monday–Friday, 9:00 AM–5:00 PM
Saturday and Sunday, 9:00 AM–6:00 PM
---
Free and open year-round to the public during Navy Pier operating hours. Free public tours are available at 2:30 PM every Friday.

Hours*
Monday–Thursday, 10:00 AM–8:00 PM
Friday–Saturday, 10:00 AM–10PM
Sunday, 10:00 AM–7:00 PM
---
Exhibitions showcase the museum's world-class collection and explore identity and contemporary culture. Additional features include an interactive Children's Center, Wolfgang Puck's kosher cafe, and gift shop.

Hours*
Sunday–Thursday, 10:00 AM–5:00 PM
Closed Friday and Saturday
---
The 24,000-square-foot facility today houses three exhibit areas, as well as a library, classrooms, offices, and a gift shop. The Museum's core offering is the permanent exhibit "The Dream of America: Swedish Immigration to Chicago," which tells the story of Swedes' mass immigration to the area beginning in 1870. The museum has four special art exhibits each year in its main floor gallery.

Hours*
Monday–Friday, 10:00 AM–4:00 PM
Saturday and Sunday, 11:00 AM–4:00 PM
---
Discover Ukraine's rich culture through colorful Easter eggs, ceramics, costumes, intricate embroidery, and religious artifacts. Learn about the Ukrainian Famine Genocide and the Chernobyl disaster.

Hours*
Closed Monday–Thursday
Friday–Sunday, 11:00 AM–4:00 PM
*Please note that hours are subject to change. Please check with the facility prior to visiting to ensure that no changes have been made since this information was posted in this publication.