If you have ever visited San Francisco, California, you already know the incredible charm and enduring allure that makes San Francisco a remarkable and memorable place to visit. Whether you visit for a couple days or stay longer to experience the city, you will not run out of things to do or new places to see. The "City by the Bay" is home to many landmarks, tourist attractions, and a thriving metropolitan area with sports, theater, music, and many cultural attractions.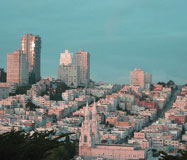 San Francisco is a beautiful town at the San Francisco Bay, with incredible ocean and mountain views, a cosmopolitan city environment, outdoor and active endeavors surrounding the city, and so much more.
Renowned for its chilly summer fog, steep rolling hills, eclectic mix of Victorian and modern architecture, and its famous landmarks, San Francisco is an extremely popular international tourist destination. You'll be right in the heart of Union Square, within walking distance of many local attractions. Whether you prefer museums, art galleries, good food, or shopping, San Francisco has it all! It is with great pleasure that the AAR welcomes you to the city and we sincerely hope that you enjoy your visit.
For more San Francisco visitor information, guidebooks, and maps, contact the San Francisco Convention and Visitor's Bureau or view their website.